Slimming Treatments
Our range of non-invasive slimming treatments restore the body's contours and reduce the appearance of cellulite.
INFRARED SAUNA
The Infrared Sauna uses dry form of heat, which actively burns the equivalent of 1200 calories! The treatment simultaneously detoxifies the body, reduces cellulite, removes heavy metals from the system and assists weight management, all in a relaxing sauna environment.
The Infrared Sauna work at more comfortable, safer temperatures between 110 and 150 degrees F. The heat deeply penetrates, absorbed up to 1.5″ for deep muscle therapy.The Infrared Sauna's heaters have a far infrared emission rate of 96%.
Duration: 20 minutes
Price:$65
Course of 3($165) or 6($300)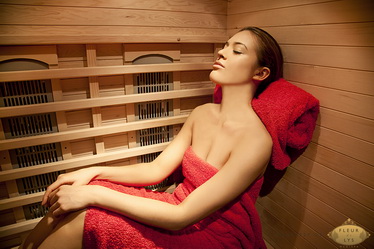 Sauna Health Benefits:
Pain Relief: Infrared energy that is released in an infrared Sauna can assist in the relieves of aches and pain by expending blood vessel and increasing circulation. When enjoying your time in a Sauna, the energy can penetrate into your muscle tissue up to 1.5" deep. Better circulation allows more oxygen to reach in juries areas of the body and helps reduce pain and speed up the healing process.
Weight control: Burning calories while relaxing? As you relax in the gentle heat of your infrared sauna, your body perspiring is part of complex thermoregulation process of the body that increases the heart rate, cardiac output and reduce excess moisture salt and subcutaneous fat. The body is actually hard at work producing sweat, pumping blood, and burning calories. In an average session in a Infrared Sauna, you can burn between 6oo – 1,200 calories trying to stay at a constant core temperature.
Exercise: During 10-20 minutes sauna session, your heart rate increases by 50-75%. This provides the same metabolic result as physical exercise. The increased cardiac load is the equivalent to a brisk walk. These is a nominal effect on blood pressure because the heat also causes blood vessels in skin to expand to accommodate increased blood flow. According to research this equals the exertion one would put forward running up to 3 miles.
Stress Reduction: Rest and relaxation are achievable through the ultimate sauna experience. Relaxation and stress reduction is perhaps the most immediate relief the far infrared sauna offers. Allow a Infrared Sauna, penetrate your muscle tissue, allowing your body to relax, and put your cares behind you, if only for a half hour.
Improves Skin Condition: Far infrared waves offer an easy way for heat to penetrate human tissue, which can stimulate metabolism. Infrared saunas and their heat reduce the inflammation of the skin, replaces dead skin cells, and can help with opening the pores on your skin to remove dirt and build up.
Detoxification: Toxins such as sodium, alcohol, nicotine, cholesterol and carcinogenic heavy metals (cadmium, lead, zinc, nickel) accumulate in the body during modern daily life. The body eliminates most toxins naturally by sweating. Heat therapy stimulates the sweat glands that cleanse and detoxify the skin. The heat simply speed up the body's natural process.
Ultrasonic Cavitation
A single treatment of Ultrasonic Cavitation used alone or combined with LED photo-biomodulation or Vacuum Suction can have a significant effect on circulation and lymphatic drainage. To achieve optimum results, a series of treatments is required to effectively slim, tone and firm the body.
Per Session:$175 minutes
Course of 6 ($880)

What is Ultrasonic Cavitation Treatment?
Ultrasonic cavitation is the new beauty treatment that replaces liposuction without going through the operating room. The new ultrasound technique that "breaks" the fat, unlike liposuction, is without surgery, without pain and without anaesthesia. This new technique can be applied throughout the body, no matter the thickness of the area to be treated or its density. It also allows to see results from the first session, resulting in a significant reduction in the perimeter and especially the progressive and permanent removal of fatty deposits. People who reduce the amount of fat but increase in fluid retention should lymphatically drain more. Cavitation is an ultrasonic treatment and works with applying these waves through a ergonomic handheld device that melts the localised fat, the type that can be found beneath the epidermis and is not removed by any diet, the most difficult to eliminate. It causes a cyclic sound pressure with a frequency greater than the upper limit of human hearing. And it does cause a loud, rocky noise when working because the bubbles are imploding and making the liquid move faster than the speed of sound! That is to say, a real ultrasonic cavitation would cause that to happen and that means it works and does result.
Here are the main features of Ultrasonic Cavitation:
• After a session of cavitation liquids are drained with lymphatic drainage massage to facilitate their elimination through the urine.
• The cavitation treatment is totally painless, it does not touch or approach any vital organ (it just penetrates 5mm) and allows immediate results, you can lose inches from the first session and then you can continue draining at home, so the results are very good and visible.
• Ultrasonic cavitation does not have great aesthetic contraindications, only the presence of internal prosthesis as the vibration of ultrasounds could move them.
• A series of measurements are made to the patient at the beginning and at the end of the session, to monitor the progress of the treatment. You can reduce up to 12cm per area in 6 to 12 sessions.
• A healthy and balanced diet is essential for optimal results of ultrasonic cavitation.
Also you should not exceed a weekly session.