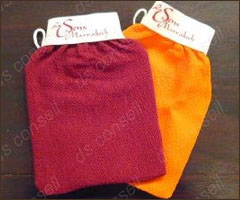 A Glove made of rough crepe, traditionally used in the hammam or under the shower. Use with Ancestral Shower Gel Cream for an authentic Morrocan experience.
Use: Apply the soft soap, rub the whole body by circular movements.Rinse carefully. Available only in red.
Fleur de Lys tip: A regular exfoliation helps to keep your skin looking and feeling healthy.