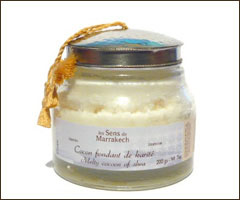 Composed of more than 96% Shea Butter, Melty Cocoon of Shea Butter is the best nourishing and a repairing product. It enables even the driest and dehydrated of skins find their sweetness and and softness.
Application: Take a quantity of Melty Cocoon of Shea Butter. Melt it in your hands and apply it to the driest zones of your body.
Perfume:
Orange Blossom
Jasmine
Fleur de Lys Tip: For a compact texture store your Shea in the fridge. For a lighter shea store the product in room temperature.
Available in:200g glass jar