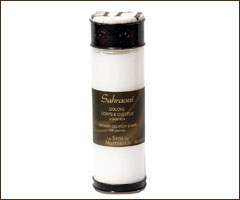 Hair & Body Sahraoui is enriched with Aloe Vera and olive oil which preserves the natural protective film of the skin and scalp. Your skin will be left feeling skin soft and velvety. Aloe Vera revitalizes with its many nutrients and will leave your hair feeling strong and glossy.
Application:Apply to damp skin and hair. Massage and rinse.
Perfume:A delicious blend of cardamom, musk and green tea.
Main ingredients:
Aloe Vera: Skin Regenerating, bactericidal, rebalances the pH of the skin.
Glyceryl oleate (derived from olive oil): Brings softness to the skin and shine to hair.
Rosemary Extract: Natural anti oxidant.
Available in:200ml