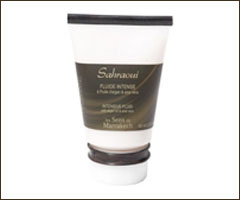 After shaving or cleansing the face, Fluid Intense helps preserve and restore the skin. The Aloe Vera and pine contained in Fluid Intense soothes the most vulnerable of skin. The Argan oil provides a refreshing sense of peace and comfort and leaves the skin stronger more resilient.
Application: Apply to the face and neck after shaving and / or cleansing the face. Do not rinse.
Perfume: Delicious blend of cardamom, musk and green tea.
Main ingredients:
Argan Oil and Sweet Almond Oil: Intense skin nourishment.
Aloe vera: Regenerating skin, bactericidal, rebalances the pH of the skin, proctecteur.
Aquaxyl and anhydroxylitol: Anti-inflammatory, anti-irritant, anti-redness.
Glycerin, Controls and protects against dryness.
Rosemary Extract: Natural antioxidant.
With a Conservative bio.
Available in:60ml