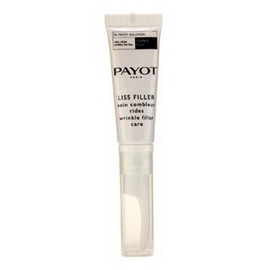 Fills wrinkles and fine lines
For all skin types
Deep wrinkles, expression lines or simply fine lines … they all mark the face and betray the state of the skin's health.
LISS FILLER, an instant, targeted anti-age solution, REDUCES WRINKLES AND FINE LINES in a single step for a "youth touch-up" whenever you need it.
DO – Use daily care adapted to your skin type. As it ages, the skin needs richer daily care products. – Cleanse, use appropriate care and eat a balanced diet to prolong your skin's youthfulness. – Protect your skin against the sun with adapted sun care products to avoid photo-aging. – Optimise your skin's appearance with facial exercises that help sculpt your face.
**DON'T : ** Expose your skin to the sun, smoking or stress, all factors that accelerate skin-aging.
PAYOT advice: Apply locally on wrinkles and fine lines after your usual face care cream. Touch-up whenever needed throughout the day.
Product Description
Main active ingredients
Hyaluronic acid sphere, vitamin A & Soft focus powder