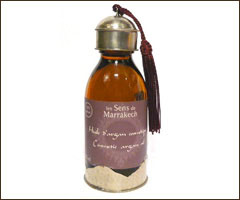 The Cosmetic Argan oil intensely hydrates and repairs the skin and hair. Extremely rich in fatty acids such as linoleique acid which acts against premature ageing and restores the skin.
Application:Morning and evening, apply with your fingertips a small amount to face and neck. For eyes, apply with cotton wool on the eyelids and eyelashes. Massage gently and rinse.
Examples of use:
Face care.
To strenghen your nails.
Massage.
Available in:125ml Glass Bottle.