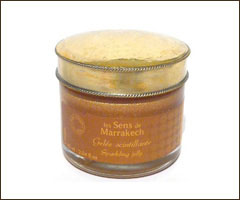 The sparkling jelly consists of argan oil (5 %) and of sweet almond oil (33 %) and is beauty must to take care ofthe body or the hair.
The sparkling jelly leaves the skin bronzed by thanks to the mother-of-pearls and amber and vanilla perfume.
Glass pot 60 ml
Perfume : Amber & Vanilla
Use:
Use a hazelnut sized amount on the body and hair. Do not rinse.